Disclaimer before you continue reading. This article is a general information article and it not written to promote any of the products mentioned below. The products mentioned are only the result of the writer's personal experience coupled with research If you are looking for a product review then you may be in the wrong place. However, if you are looking for general information, continue reading.
Having a strong type of adhesive in its range of tools is essential, especially if you like to DIY. It presents itself as an ideal solution to solve different problems in your home, garage, or garden. Extremely resistant, you can use it in different situations and generally adapts to any type of material. In short, you will always need it, both for small crafts and for more or less important work.
However, given the number of strong adhesives available commercially, it can sometimes be difficult to find a strong adhesive that will perfectly meet your needs. To achieve this without too many difficulties, the ideal would already be to have examples of products on which you can base yourself. 
 Here are our lists of the 10 strongest glue in the market today
The Loctite Precision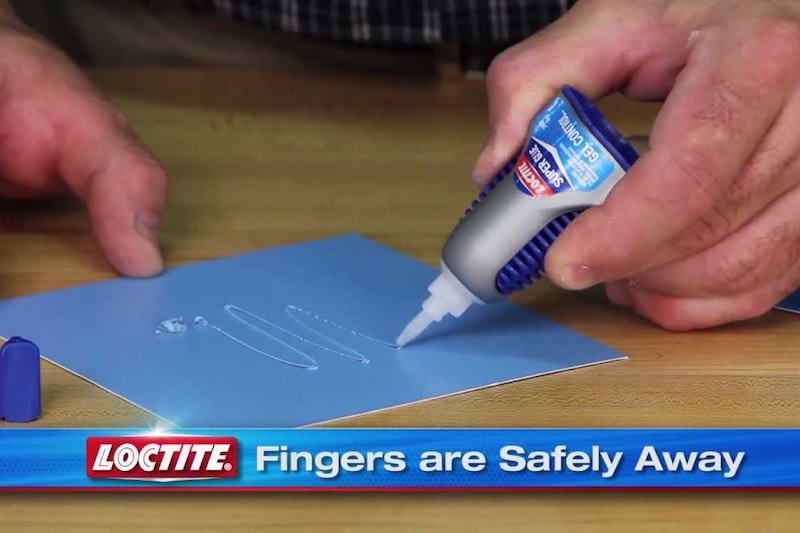 Considered the best strong product on this list, the Loctite Super Glue is the extra strong glue that you absolutely must possess. Easy to use, reliable, and compatible with different materials, this product will allow you to make fast and strong collages adapting to any situation. With a wide range of applicators, you can use it for a variety of tasks. It also has a composition formulated to withstand various conditions. Water, detergents, shocks, and extreme temperatures will have no effect on it.
This product is recommended for various materials, including porcelain, wood, metal, leather, rubber, paper, and plastic. However, pp and PE plastics are not compatible. In addition, the very thin tip will allow you to apply it very precisely, especially at the level of hard-to-reach surfaces. The use of Super Glue is recommended on a non-porous surface.
The Loctite Professional
Still from the Loctite brand, the professional Super Glue-3 is the strong glue to favor for big jobs. It will be essential for you during your more or less important bonding tasks. With a greater capacity, this adhesive is a crucial DIY tool, because you can reuse it several times without fear of it drying in its bottle. During its use, the drying is instantaneous and the bonding is particularly powerful. It can be applied to different materials such as wood and metal for example. Beware, however, this extra strong product is not effective on Teflon, automotive glass, synthetic fiber, polypropylene, Styropor, and expanded polystyrene.
The formula used for the design of this super glue was made to withstand water, dishwasher, shocks, but also extreme temperatures. Its 20g capacity guarantees you uninterrupted use during your work.
The Loctite Power Flex Gel
Enriched with rubber, this strong Gel Glue of Loctite is a very effective alternative to making resistant collages. In a matter of seconds, it will attach itself effectively to all types of existing materials, even the most flexible. You'll even have the option to use it on flexible materials such as inflatable balloons or pipes. Totally universal, this super glue can be used on porous surfaces. However, it is unusable on plastic PE and PP.
Like most of the brand's products, this adhesive is resistant to water, extreme temperatures, and shocks. The tube's anti-drying system guarantees worry-free reuse.
Everbuild CYN20
With its unique compound, this product is ideal for bonding different materials. The fast formula of strong adhesive adheres effectively to any type of non-porous surface in just a few seconds. Contained in a 20 g bottle, the Everbuild CYN20 is essential in all medium to large-scale collage work.
This product can also be used several times, as it does not dry when it is still contained in its bottle. Industrial quality, you will not be disappointed with this glue even for intensive use.
Kit ACTI 21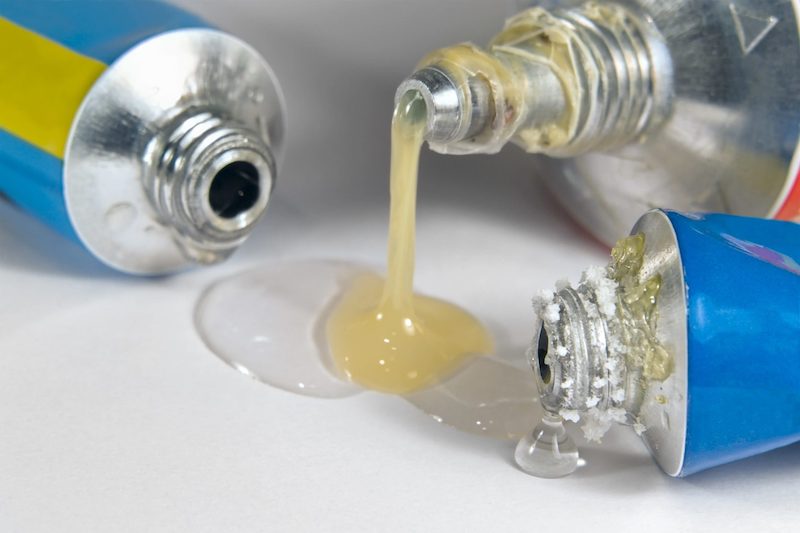 This strong kit glue includes the super glue 21 and its activator. This is an ideal pack for fast and powerful collages on different surfaces. Its application is very simple and is particularly suitable for different DIY jobs, but also modeling. So, if you are a follower of this practice, you will have the right tools to do it in the right way. The activator is, as the name suggests, designed to activate or allow the adhesive to adhere in the best possible way.
In terms of using the kit, there are two methods. The first is to spray the activator first and then apply the adhesive. For the second step, it is simply necessary to proceed in reverse. The use of this adhesive is possible on different materials namely rubber, leather, ceramics, metal, wood, and many others.
The Everbuild CYN50
This strong glue from the Everbuild brand first of all has a serious advantage in terms of quantity, because the bottle is 50 g. in terms of bonding performance, the formula of this super adhesive is capable of filling a space of 0.1 mm. The industrial-grade Everbuild CYN50 can nevertheless be used for a home application as part of a DIY or repair of an object. The adhesive power of the adhesive is remarkable and presents itself as ideal on a surface where the speed of grip must be required. In fact, the duration of this is usually between 5 and 15 seconds depending on the material to be glued.
This ultra-strong glue is used on different non-porous surfaces such as plastic, metal, glass, rubber, and PVC.
The Loctite Perfect Pen
With the Loctite Super Glue-3 Perfect Pen, your bonding operations will be as simple as when you write. You can forget about the problems with the flowing glue and the fingers stuck with this ultra-strong adhesive. This is the handiest superglue in this strong adhesive comparison. Indeed, thanks to its pen shape, the comfort of use is optimized. You will be able to make very clean and precise collages. In addition, formulated in the gel, it is almost impossible to get the wrong dose to use. The flow is more than remarkable in accuracy and can be easily controlled. In fact, a few drops are enough to stick different types of materials.
With the gel, you can make a vertical bond without fear of the glue leaking. Its use is possible on rubber, wood, leather, metal, etc. However, it is useless on PE and PP plastics, Teflon, and expanded polystyrene. It could even damage these types of material.
Speedy-Fix Hete-Supply
Speedy-Fix strong glue is the ideal solution for repairing or mounting an object through bonding. It only takes a few seconds to dry on the material and its adhesive character is particularly powerful. With this adhesive, you can assemble and/or repair almost everything. You will even be able to plug holes thanks to the characteristics of this glue.
The batch contains 2 vials of adhesives, one bottle of black powder, and another bottle of grey powder. A plastic raclette, a pair of gloves, a knife, a connector, and a push pin are also included in the pack. Of course, instructions are also provided to help you with dosages.
The HG Power Professional Kit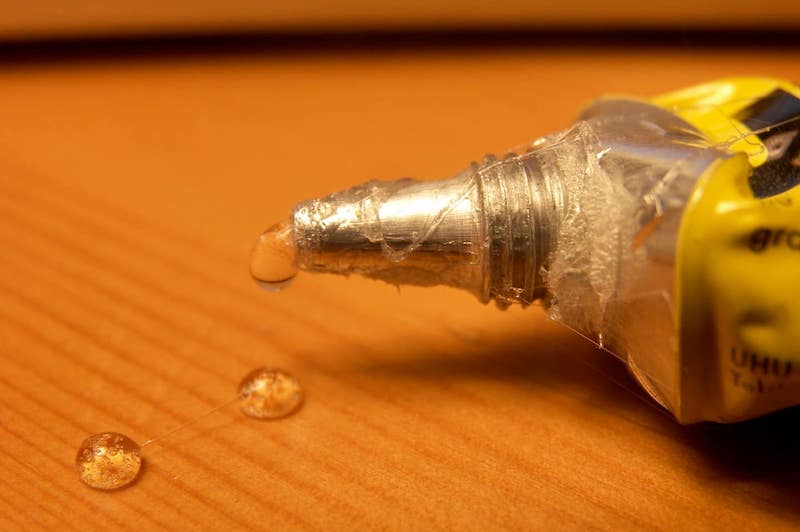 This strong glue kit is one of the best performings on the market today. Indeed, its peculiarities allow it to have a strong resistance when the compound is applied. The combination of adhesives and pellets provides unprecedented efficiency and even looks like welding. All your broken objects or those that you will have to assemble during work of crafts will be made according to the rules of the art. Chemical adhesive from the composition of aggregates and adhesive substance also resists different conditions.
This glue is ideal for assembly tasks on rubber, plastic, wood, metal, glass, and more. Whether you're a professional or just a person who likes to tinker, this kit is for you.
The Loctite Power Flex Gel Mini Trio
Enriched with rubber, the Power Flex Mini comes in three 1 g tubes and is one of the best super-strong adhesive choices. It is especially ideal for small repairs that are carried out at the last minute, but also suitable for any type of task. In addition, this adhesive adapts to virtually all surfaces, whether porous or not. It also withstands extreme temperature conditions, water, and shocks. It can also be used on soft materials such as pipes.
The three mini-tubes provided have the distinction of not letting the glue dry thanks to an anti-drying system.